Resources for our Veteran Students
Welcome home, service member, and thank you for your courage and dedicated service to our country. Whether you'd like help applying for financial aid, need a quiet place to study, or are looking for an on-campus club to reunite with other veterans, we hope you'll find what you're looking for here. 
We are committed to help you reach your educational and career goals.  Use this page to see the veteran resources available to you.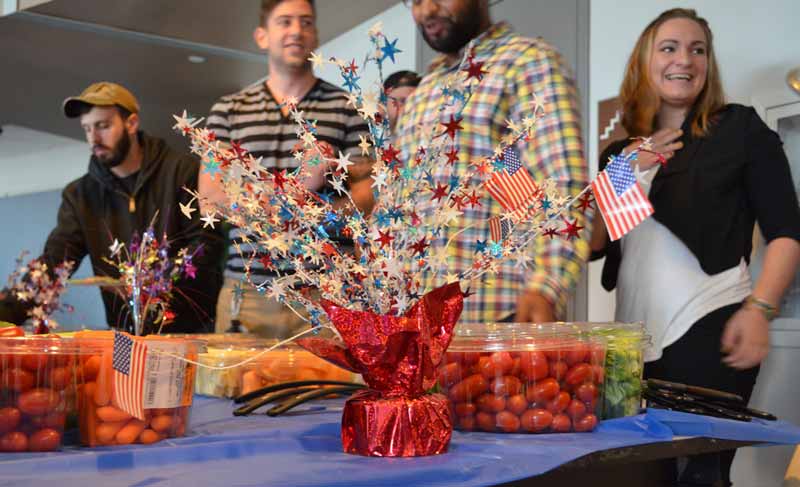 Veteran's Benefits
As a veteran, you may be eligible to receive the following benefits from our College:
CT State Veteran's Tuition Waiver: Provide a CT driver's license and a Member 4 copy of the DD-214 to OVA. The tuition waiver is available for fall and spring semester credit courses only. You will be responsible for payment of college fees at the time of registration as well as all book charges.

National Guard Tuition Waiver:

 You must first apply to the Commanding Officers at your unit, who will issue a Certificate of Eligibility to the College. You will be responsible for payment of college fees at the time of registration as well as all book charges. Guard waivers are available for fall and spring credit courses only.

GI Bill®: 

As a veteran who has served at least 90 days of active duty (not including boot camp) and been honorably discharged, you are eligible for the GI Bill®. Applications are available in OVA or you may apply online at www.benefits.va.gov/gibill/apply.asp. Once the application has been processed by the VA, you will receive a Certificate of Eligibility to submit to the OVA.

Requesting Military Transcripts: 

Army, Navy, Coast Guard and Marine Corps personnel may request transcripts through the Joint Services Transcript system. For Air Force personnel, transcripts are handled through the Community College of the Air Force.

Vocational Rehab. Benefits are available to veterans with documented disabilities. Please contact a counselor at:
Department of Veteran's Affairs
Hartford Regional Office
555 Willard Avenue
Newington, CT 06111
860-594-6611
Important Links for Veterans
Should a student withdraw at any point during the semester, please see our refund policy.
Remember, when a student stops attending due to military obligations, the student must complete a special waiver request form that accompanies a copy of the orders and submit both to the Registrar's Office.
Once the form is approved, the Service member's account is settled resulting in no outstanding debt with NVCC.
About the Veteran's Oasis
NVCC opened the Veterans' Oasis on May 5, 2009 to welcome and serve current and future veterans. The space was a collaboration between the Office of the Governor, the Connecticut Veterans Association, the Chancellors of the State's public colleges and universities, and NVCC President Daisy Cocco DeFilippis. On February 10, 2011, Naugatuck Valley Community College hosted an Open House to celebrate the renovation and grand opening of the Veterans' Oasis.  This renovation was completed through the generosity of Pilgrim Furniture, Walmart and numerous local companies who provided their goods and services.  
Location
The Vet's Oasis is located in room S411, accessed through the Student Center Building on NVCC's Waterbury campus.
What Does the Veteran's Oasis Offer?
flat screen TV
four computer stalls
table, sofa and chairs for veteran use
sink
refrigerator
The Oasis is used for numerous veteran functions and as a study area. As of today, over 350 veterans of Naugatuck Valley Community College are grateful to have the OASIS to call their own.
This email address is being protected from spambots. You need JavaScript enabled to view it.
203-596-2188 (p)
203-575-8157 (f)
Room: K512
750 Chase Parkway
Waterbury, CT 06708
This email address is being protected from spambots. You need JavaScript enabled to view it.
203-596-8624 (p)
Room: K508
750 Chase Parkway
Waterbury, CT 06708
This email address is being protected from spambots. You need JavaScript enabled to view it.
203-596-8616 (p)
Room: K508
750 Chase Parkway
Waterbury, CT 06708
Veteran Team Qualifications
Our Veteran team is well qualified to provide you with the support you need to navigate the financial aid process.
See qualifications here.