About NVCC's Foundation
With a 49-year history of supporting the college's strategic initiatives through fundraising and community outreach, the NVCC Foundation supports the needs of the college through facilitating student scholarships, capital improvements, college programs, and student emergencies. The financial needs of the college cannot be met through tuition and state support alone; NVCC works with the community and businesses to ensure our students have an opportunity to succeed in today's workforce. 
Your gifts change lives.  
Help NVCC students pursue their education. Thank you for all you do to support our students in need!
Here is our latest report card.  See how your donations have been used!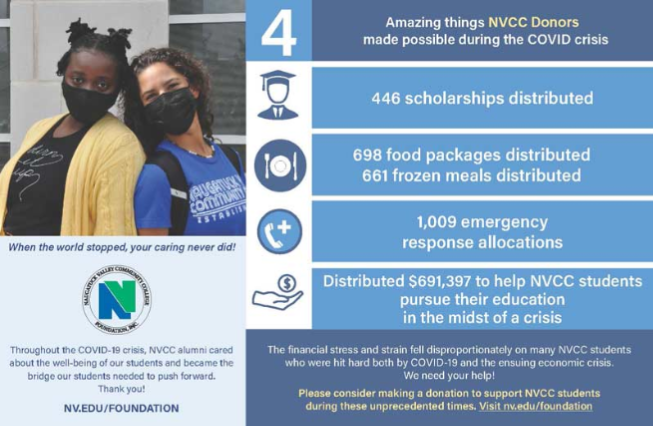 Please consider a gift to our Annual Appeal and donate now.
Are You A Student Who Needs Help?
Annual Reports
2019-2020 NVCC Foundation Annual Report


2018-2019 NVCC Foundation Annual Report
2017-2018 NVCC Foundation Annual Report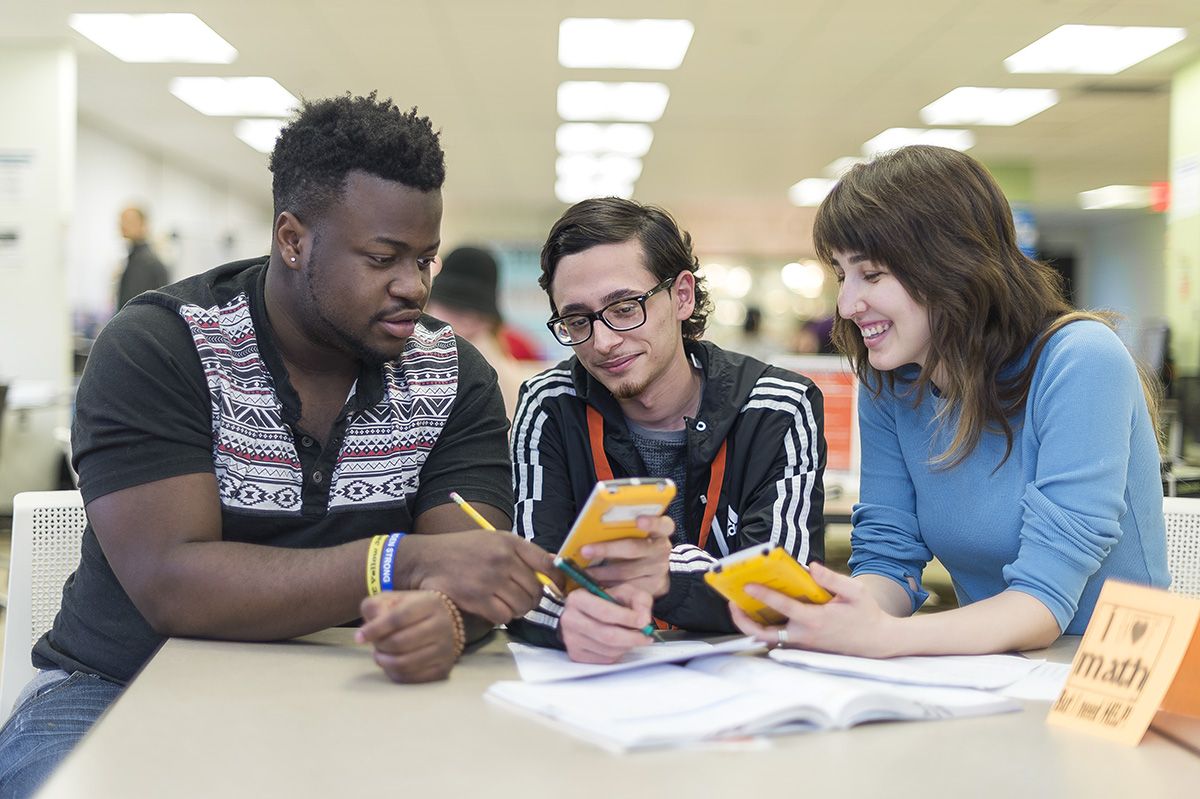 Ways to Make A Difference
Helping a student graduate from college can be the most rewarding experience of your life. There are a number of ways you can work with the NVCC Foundation to help our students succeed.
SCHOLARSHIPS: A contribution to a scholarship fund helps to keep students in college and prepares them for careers.  You can designate to a general fund or a specific field of study.  Endowed scholarships are also a great way to honor a family member or loved one or promote your company by supporting student success. 
STUDENT EMERGENCY FUND: The Student Emergency Fund is a critical resource for NVCC students during times of extraordinary crisis. The uniqueness and value of the Student Emergency Fund resides in its ability to respond to unanticipated students' needs immediately. Proceeds from this fund were utilized to support our students during the COVID-19 pandemic. This Emergency funding has helped keep students in school and on-track to graduate. As the pandemic lingers, this funding continues to be an essential lifeline for our students. 
NVCC STUDENT FOOD PANTRY serves NVCC students who may be struggling with food insecurity. The pantry runs two programs.  Grab and Go for students who need a quick snack during the school day and our Grocery program which provides food for students to prepare at home. 
NAMING OPPORTUNITIES: Leave a legacy, honor a family member or publicize your business through a naming opportunity. There are naming opportunities available for classrooms, laboratories, outdoor learning centers, equipment and other select areas. 
STUDENT TECHNOLOGY:  Help provide our students the technology they need to succeed. Due to COVID-19 most classes have moved to online, remote learning.  Many of our students do not have access to technology at home. Imagine life without a computer. No internet. Help us to provide our students with laptop computers and internet hotspots so they can continue their studies during these difficult times.  
MATCHING GIFTS: Your donation becomes larger and creates an even bigger impact if your employer has an employee matching gift program. To find out if your company has a matching gift program contact your human resource department or charitable giving office for regulations.
How to Donate
Call/Email: For more information on how to give contact: Angela Chapman, Associate Dean of Development
call  203-575-8208  or email This email address is being protected from spambots. You need JavaScript enabled to view it.
Mail: Already know where you would like your donation to go?
Be sure to make checks payable to:
NVCC Foundation
c/o Angela Chapman NVCC
Development Department
750 Chase Parkway, Room K720
Waterbury, CT 06708 
About our Foundation Board
The Foundation is a private, non-profit 501(c)(3) organization with a community-based Board of Directors that comprises educational, financial, business and community leaders.
2022/2023 Board of Directors
Charles E. Pagano Jr., Chair
Retired ESPN Executive 
Mari-jean Morelli, Vice-Chair
James O'Rourke, Secretary
Greater Waterbury YMCA 
Diane Teixeira, Treasurer
Torrington Savings Bank
Tamara Brown
Linde
John Capobianco
The Charlotte Hungerford Hospital
Mary Davis
Kimberly Fitzgerald
Montagno Insurance Agency
Randee Lee Hickey
EmblemHealth/Connecticare
Dr. Peter Jacoby
Trinity Health of New England
William Rybczyk
New Opportunities, Inc.
Lauresha Xhihani
Waterbury Health
Domenico Zaino
Carmody Torrance Sandak & Hennessey LLP 
Lisa Dresdner, Ph.D., Ex-Officio
NVCC CEO
Angela Chapman, Ex-Officio
NVCC Associate Dean of Development
Christopher Rempfer, Ex-Officio 
NVCC Faculty Representative
Eric Gil, Ex-Officio
SGA Treasurer
Student Representative