About the One Book, One College Program
The One Book program engages students in a shared reading experience paired with book discussions, film viewings, lectures, and other events throughout the academic year. Students enrolled in the First Year Experience (FYE) course will read the book as part of the course. Students not taking FYE are also welcome  to attend all One Book events, and multiple copies are also on reserve in the Max R. Traurig Library.
About The 2019-20 Selection
NVCC's One Book Committee is pleased to announce that the 2019-20 "One Book, One College" common reading selection is on reserve in the library in both Waterbury and Danbury campuses.
Lydia is dead. But they don't know this yet . . .
So begins the story of this exquisite debut novel, about a Chinese American family living in 1970s small-town Ohio. Lydia is the favorite child of Marilyn and James Lee; their middle daughter, a girl who inherited her mother's bright blue eyes and her father's jet-black hair. Her parents are determined that Lydia will fulfill the dreams they were unable to pursue—in Marilyn's case that her daughter become a doctor rather than a homemaker, in James's case that Lydia be popular at school, a girl with a busy social life and the center of every party.

When Lydia's body is found in the local lake, the delicate balancing act that has been keeping the Lee family together is destroyed, tumbling them into chaos. James, consumed by guilt, sets out on a reckless path that may destroy his marriage. Marilyn, devastated and vengeful, is determined to find a responsible party, no matter what the cost. Lydia's older brother, Nathan, is certain that the neighborhood bad boy Jack is somehow involved. But it's the youngest of the family—Hannah—who observes far more than anyone realizes and who may be the only one who knows the truth about what happened. A profoundly moving story of family, history, and the meaning of home, Everything I Never Told You is both a gripping page-turner and a sensitive family portrait, exploring the divisions between cultures and the rifts within a family, and uncovering the ways in which mothers and daughters, fathers and sons, and husbands and wives struggle, all their lives, to understand one another.
Any other faculty interested in incorporating the book into their course should contact This email address is being protected from spambots. You need JavaScript enabled to view it.. Ms. Ng's second book, Little Fires Everywhere , is also available in the Max R. Traurig Library Reading Commons.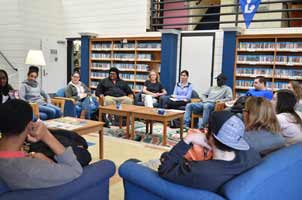 What Will I Gain from Participating?
Relate issues raised by the book to your lives as new or returning students. 

Identify community with peers and facilitators through shared reading and discussion experiences. 

Actively engage in events, express viewpoints, and contribute to the collective conversation. 

Explore the distinct and/or common qualities in one's own perspective and those of others. 

Examine themes through multiple disciplines and mediums.
Who We Are
The One Book program is sponsored by the Office of the President, the Office of Academic Affairs, and the Max R. Traurig Library. Book selections and programming are organized by a committee of faculty, staff, and student members.
NVCC's 2021-22 committee members are:
Jaime Hammond, Director of Library Services (co-chair) 
Sam Johnson, Center for Academic Planning and Student Success
Louis Lombard, faculty, English (co-chair)
NVCC student (vacant)
Julia Petitfrere, faculty, English 

Elma Solomon, faculty, Accounting 

Kathy Taylor, faculty, Legal Assistant/Paralegal

Antony Wormack, Center for Job Placement and College Opportunities
The One Book One College committee is comprised of NVCC faculty, staff, and students. Choices are made based on the following criteria: books that will "stir discussion" and be enjoyable to read but also stress literary value, diverse perspectives, relationship to contemporary events, and appropriate rigor for the entire community. Nominations are always welcome- simply email any of the committee members with your ideas!
Previous One Book One College Selections