News Releases
Naugatuck Valley Community College Receives Awards at PTK Annual Convention
Share
WATERBURY—Naugatuck Valley Community College received several international, national and regional awards during PTK Catalyst 2023, the Society's annual convention in Columbus, Ohio this spring.
NVCC CEO Lisa Dresdner, Ph.D., was among 28 college presidents in the nation to be recognized with a Phi Theta Kappa Honor Society (PTK) Paragon Award for New Presidents.
Dresdner was nominated by Naugatuck Valley Community College student members of the Alpha Theta Epsilon PTK chapter. The award recognizes college leaders who have shown support of student success initiatives leading to strong pathways to completion, transfer, and employment. Paragon presidents take an active interest in supporting high-achieving students and developing student leaders on campus.
"I am honored and humbled to receive this award. It is a testament to the collective efforts of our dedicated faculty, staff, and most importantly, our extraordinary students," said Dresdner, who was appointed the CEO of Naugatuck Valley Community College in 2021. "This award celebrates our unwavering commitment to academic excellence, student success, and leadership development."
Naugatuck chapter advisors, Greg Harding, associate professor of English, and Alan Teitleman, assistant professor of communications, were awarded for being among the top 10 international advisors, which came shortly after being awarded Most Distinguished Chapter Advisor Team at the New England Regional PTK conference in March.
NVCC student PTK members Chandra Owen of Brookfield, a PTK officer and computer science major who graduated in May, and Siavon Silva of Bristol, a social work studies major, were among outstanding students from the Connecticut community colleges selected for the 2023 All-CT Academic Team in recognition of their scholarly achievements.
The All-Connecticut Academic Team recognizes the outstanding scholarly achievements and leadership accomplishments of students enrolled in Connecticut's community and junior colleges. The students chosen for the state team also represented the state of Connecticut in the All-USA Academic Competition.
Owen also received a $1,000 scholarship as a Coca-Cola Foundation Bronze Scholar. "I'm so honored to receive this scholarship," said Owen. "And I'm grateful to PTK for making this possible. I couldn't have done this without the incredible support I receive at NVCC and especially from my advisors, Alan Teitleman and Greg Harding." Coca-Cola Scholars Foundation partners with Phi Theta Kappa and awards 50 Gold, 50 Silver, and 50 Bronze Scholars nationally each year to recognize outstanding students at community colleges.
Students are nominated for the academic team by their college administrators. Selection is based on academic achievement, leadership, and engagement in college and community service.
NVCC's Alpha Theta Epsilon chapter also won several regional awards this spring, including Second consecutive year of being named a 5-Star Chapter; First Place award for Honors in Action Project for "The Art and Science of Play" and "Economics of Play;" Third Place, College Project; and Third Place, Most Distinguished Chapter.
PTK membership at NVCC is open to students who have completed a minimum of 12 semester hours of college courses with a minimum GPA of 3.4.
Phi Theta Kappa is among the largest honor societies in higher education with approximately 240,000 active members and nearly 1,300 chapters on college campuses in all 50 of the United States, and 11 countries. More than 3 million students have been inducted since its founding in 1918.
NVCC is among 12 community colleges in Connecticut merging in July to become CT State Community College, the largest in New England dedicated to quality, access, and affordability. CT State students will be able to apply once and take classes at any campus. In addition to NVCC, other locations include Asnuntuck (Enfield), Capital (Hartford), Gateway (New Haven & North Haven), Housatonic (Bridgeport), Manchester, Middlesex (Middletown & Meriden), Northwestern (Winsted), Norwalk, Quinebaug Valley (Danielson and Willimantic), Three Rivers (Norwich), and Tunxis (Farmington) Community Colleges.
For more information, contact:
Professor Greg Harding
This email address is being protected from spambots. You need JavaScript enabled to view it.
Assistant Professor Alan Teitleman
This email address is being protected from spambots. You need JavaScript enabled to view it.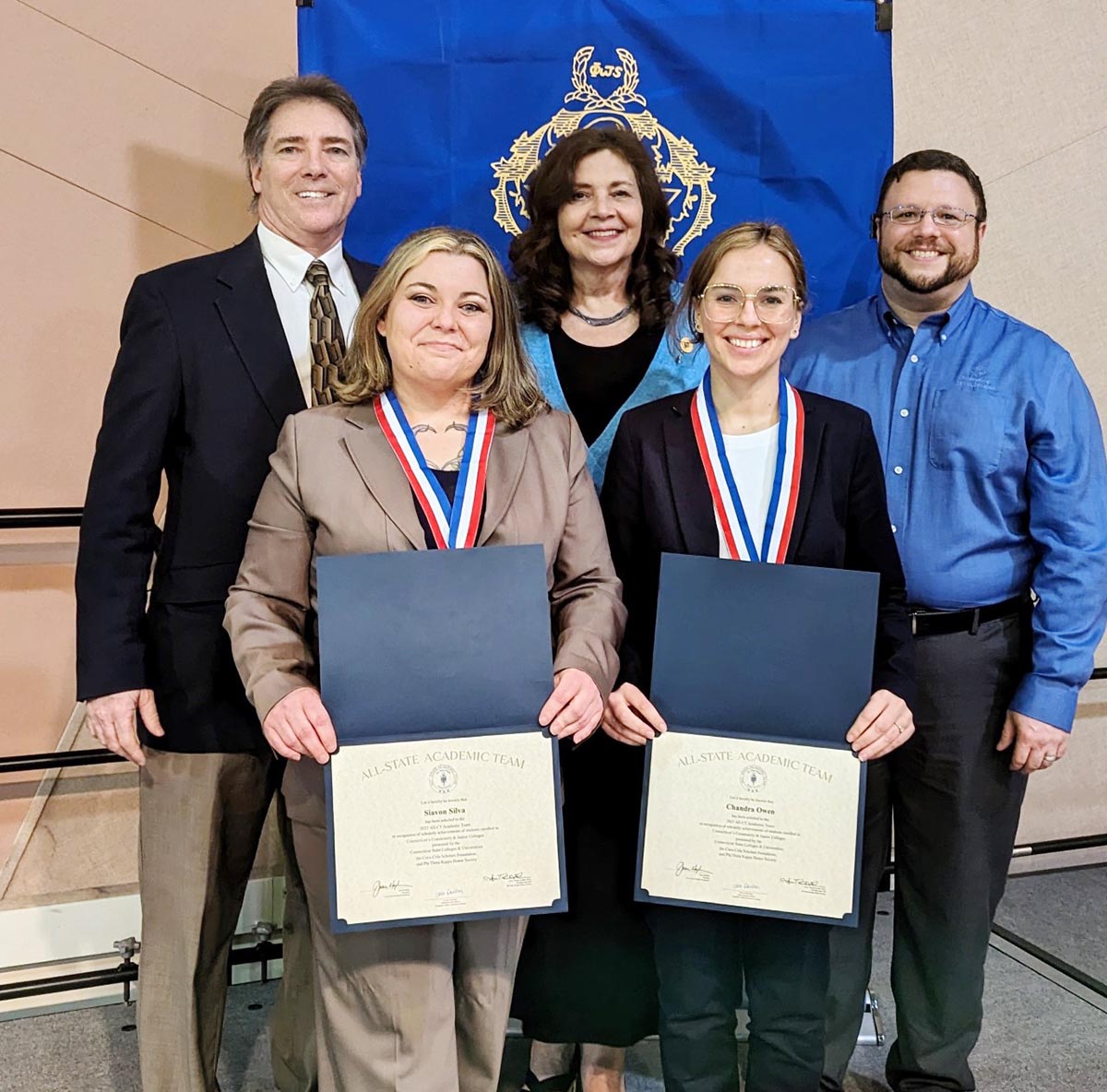 L to R: NVCC student PTK members Siavon Silva of Bristol and Chandra Owen of Brookfield take a moment to celebrate their selection for the 2023 All-CT Academic Team with Greg Harding, NVCC CEO Lisa Dresdner, Ph.D., and Alan Teitleman.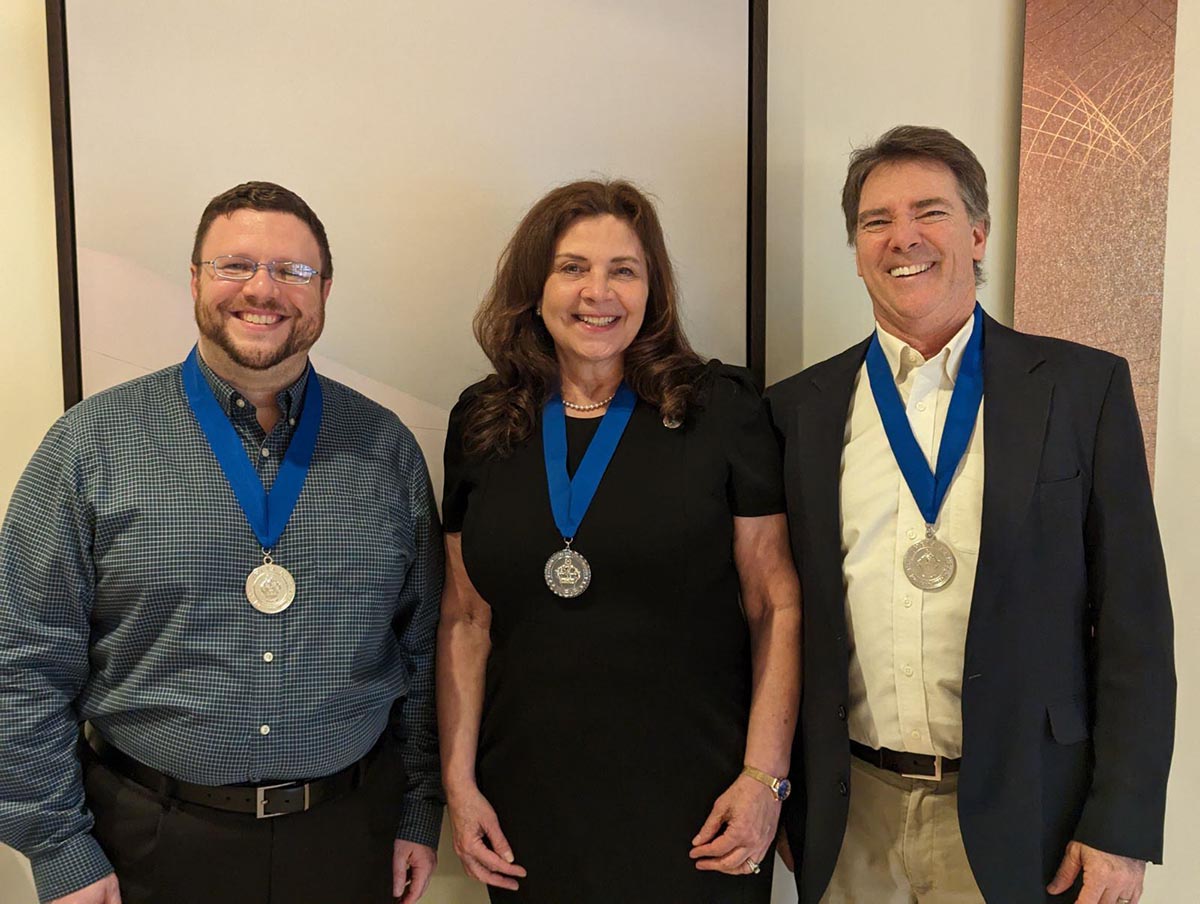 NVCC CEO Lisa Dresdner (center) and PTK co-advisors (l to r) Alan Teitleman and Greg Harding received PTK awards this spring for their leadership.
---
Other Naugatuck Valley Community College News
HAVE A QUESTION? EMAIL US.