Admissions and Aid
Your success is our expectation!  CT State's admissions and financial aid teams are ready to help you get started so you can experience the difference a college education can make. 
You May Be Eligible to Attend CT State Debt-Free!
Visit Our Campuses
There's no better way to learn about Naugatuck Valley Community College than to see it first hand. With a campus in Waterbury and one in Danbury, we're close to home. Join us for an informational session and tour! 
Student Success
NVCC awarded 900 associate degrees and certificates for the 2020-21 academic year. Job well done graduates!
$13M
More than $13 million of financial aid is awarded annually through NVCC.
100+ Programs
You'll find your path with over 100+ degree, transfer, certificate and work-force programs.
Upcoming Enrollment Dates
Summer and Fall 2023 Registration Dates:
CT State Naugatuck Valley is offering a mix of online and in-person classes. Learn more about instructional methods here.
CT State offers over 100+ degrees, certificates and work-force ready programs. Whether you're interested in an affordable pathway to a Bachelor's degree, want a career-ready degree or certificate, or are looking for work-force training, we've got you covered.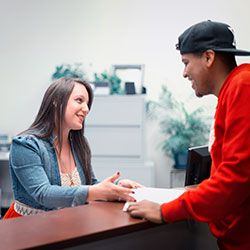 Quality, Affordable Education
At CT State Naugatuck Valley, our affordable tuition and convenient, flexible payment plans make our quality education within your reach. Need help filling out your FAFSA or discussing types of aid? Our financial aid office is here for you.
How Does CT State Naugatuck Valley Rate in Terms of Affordability?
Whether your goal is to pursue an associate degree, certificate, or you're here to catch up on some classes; at CT State Naugatuck Valley you can save thousands in tuition!
Tuition estimated from College's websites.
Admissions & Enrollment Guides
Your Success is Our Expectation
Experience the difference a college education can make. NVCC's admissions and financial aid teams are ready to help you get started. The first step towards your new college career at Naugatuck Valley Community College is to complete the admissions process. Don't worry – we're here to help you every step of the way. Whether you wish to earn an associate degree or enroll in any of our other programs, we have collected step-by-step information to assist you. Ready to get started?
Your Student Resources and Services
 Students Have Access to:
Smart Classrooms

Computer Labs 

Tutoring Center (ACE) 

Greenhouse 

Mainstage

Health Simulator Labs

Safe, Friendly, and Supportive Environment 

Connected Campus

Childcare Center 

Gardens
"NVCC is the best place to begin your education. It's the most affordable school in the area in addition to having some of the most caring/dedicated professors I have ever met. This school has helped me grow in a variety of ways, and I'm grateful for the assistance in making my academic dreams come true."
Justin Subervi